Elbow pads protect the elbows, as well as a bit of the forearm and triceps. The elbow pads are mainly for protection when the child falls, and also from slashes and hooks from other players.
Why do you need elbow pads for hockey?
The main purpose of elbow pads is to protect your elbows from impacts with the boards and ice, but they can also help protect your forearms and lower biceps from slashes. When you fall backwards or sideways it's quite common to land on your elbows. This is especially true for beginners, who are more likely to flail their arms back to try to catch their balance.  For this reason, elbow pads can be a great idea not just for hockey, but also for all on-ice activities including pond hockey, lessons, and public skating.
Elbow Pad Pricing Explained
The typical price range for new, non-clearance elbow pads is approximately $25-150.
The cheapest elbow pads have no plastic shell, are composed entirely of low quality foams, and usually cost around $25-30.  These are not recommended for hockey because they offer minimal protection – a fall with one of these can cause some nasty bruises or worse.
One step up from these are the low-end elbow pads with plastic shells ($30-45). These have a thin plastic shell with a thin foam liner, and usually a small amount of mid-density PE foam in other areas like the bicep and forearm. Still lacking in protection, but substantially better than the all-foam ones.
Moving up from those, higher end pads ($60+) will have thicker plastic and foam, better straps, and increased protection on the forearm and lower bicep. They can also feature high-tech materials for better lightweight protection and faster drying.  Occasionally these can feature an all-foam design rather than being based around a plastic shell, but they bear little resemblance to the cheap ones mentioned earlier.
Unlike other pieces of equipment like gloves and shin pads, elbow pads don't really have a hard and fast rule for measurement – if it feels like a good fit to you, chances are it's fine to wear.  It's not uncommon for jump from size to size when going from one brand to another, either.  However, there are some important considerations when it comes to fit.
The ideal fit for an elbow pad is mobile yet secure.  This means it should not feel restrictive when bending or extending your elbow, nor should it feel like it's slipping off when you shake your arm around.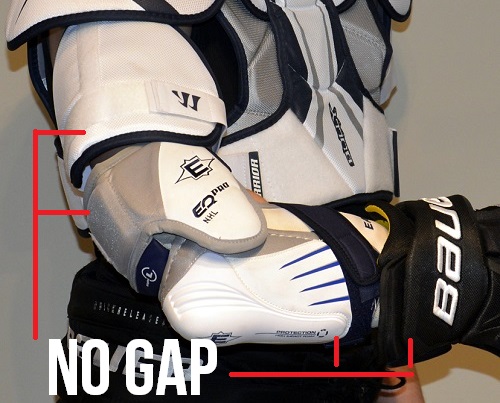 Additionally, there should be no gaps in protection where the elbow pad meets the cuff of your glove, or where the top flap meets the bicep guard of your shoulder pad (some shoulder pads can adjust here too).  If there is unprotected space near the wrist, but the elbow pad seems to fit well otherwise, you can buy padded wrist guards to fill up this space.
Recommendations When Buying Elbow Pads
As mentioned earlier, cheap foam-based elbow pads offer very little protection, so it is worthwhile to buy ones with a full plastic shell instead.  Even some of the cheaper plastic-shell elbow pads don't protect very well, so I would recommend spending some extra money here – especially if you're relatively new to hockey.  Sales notwithstanding, look for a minimum price of $30-40 if you're on a tight budget, but for solid protection, go for something around $60-90.
Should I buy used Elbow Pads?
Used elbow pads are fine, as long as they're in decent shape (straps & velcro are relatively fresh, and no damage to the shell).